Integration with Microsoft Teams
We are excited to announce Stormboard's new integration with Microsoft Teams! Stormboard is already integrated with the Microsoft Surface Hub, Microsoft Office365, and Microsoft Power Automate (formerly Flow), so we are thrilled to be expanding our Microsoft integrations to help our users make their meetings better!
What is Microsoft Teams?
Microsoft Teams is an extension of Office365 that allows you to chat (using text, audio, and video), edit documents in real-time, store files, take notes, and more with anyone inside or outside your organization.
Teams allows users to use other Microsoft apps alongside it, as well as third-party services (such as Stormboard) to make the most out of the app. Just like Stormboard, the goal of Microsoft Teams is to make collaboration easier.
Keep Everything In One Place
Adding Stormboard to Microsoft Teams allows you to provide quick access to your Storms (what we call your digital workspace) or share a Storm without ever leaving the application.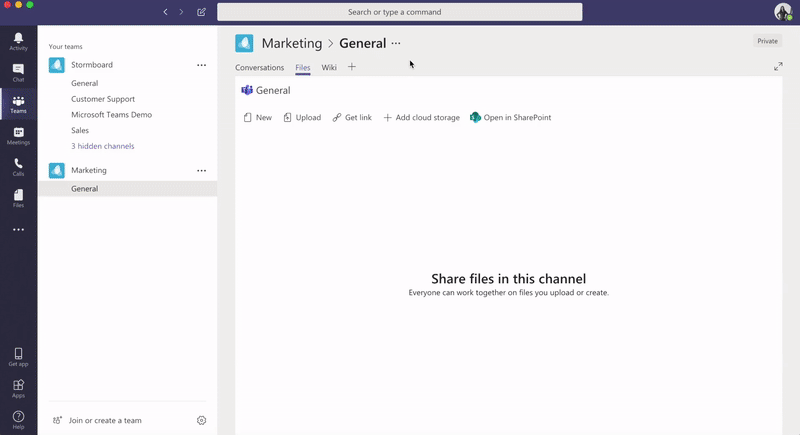 Import Storms Directly to Tabs
Add existing Storms (see image above), or create new ones right in your Teams workspace! Anyone with access to the channel will be able to view the Storm, add new content, or check in on progress ensuring that planning sessions, agile sprints, daily status updates, and more run seamlessly.
Stay Up-To-Date
Missed a meeting? No problem! Stay up-to-date on everything that is happing in your Storms — like new content, comments, assignments, and users. These notifications show up in Teams as a conversation with the Stormboard Bot.
Make Your Meetings Better With Stormboard + Microsoft Teams!
Provide quick access to your Storms for everyone in the Teams channel
Collaborate in Stormboard without leaving Teams
Run more effective meetings in Teams by utilizing a Storm with one of the hundreds of templates (for processes like Agile, Kanban, and more) in Stormboard
Stay up-to-date with notifications from the Stormboard Bot